We are implementing call centers based on Asterisk, multichannel phones, SIP telephony.
Asterisk - free solution for computer telephony (including, VoIP) open source from Digium, originally designed by Mark Spencer. The application works on Linux operating systems, FreeBSD, OpenBSD and Solaris, etc.. The name of the project comes from the name of the symbol "*" (English. asterisk - "asterisk").
Asterisk in combination with the necessary equipment has all the capabilities of a classic PBX, supports many VoIP protocols and provides rich call control features, among them:

Voice mail
Conference call
IVR (interactive voice menu)
Call center (placing calls in a queue and distributing them to subscribers, using various algorithms)
Call Detail Record (call detail record)
Implementation cost from 30 000 rub + equipment (~ 20 000 rub.).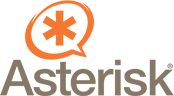 Asterisk IP-PBX is a free open source computer telephony solution from Digium, originally designed by Mark Spencer. The application works on Linux operating systems, FreeBSD, OpenBSD и Solaris. The name of the project comes from the name of the symbol "*" (star, asterisk).
Asterisk in combination with the necessary equipment has all the capabilities of a classic PBX, supports many VoIP protocols and provides rich call control functions:
Support for traditional corporate PBX functionality
Asterisk provides the following set of functionality:
Conditional and unconditional call transfer (call transfer)- necessary for more efficient use of external lines and numbers (sharing these resources between subscribers), for convenient switching of calls from one subscriber to another or to additional services (conferences, menu).
Placing a call on hold (call hold) and music on hold (music on hold) - allows you to interrupt the conversation at the moment, and dial another number, then go back. Typical Application - Short Consultation, when the caller does not know the answer, and contacts, without breaking the channel with a colleague to get an answer, after which he reports the answer to the caller.
New call notification (call waiting) – when, if the called subscriber is already in touch, notifies him of the arrival of a new incoming call with the ability to select a response method (to accept, reject, ignore). This function allows you to be aware of incoming calls during a call and, if necessary, switch to a more important call.
Ability to set up call forwarding (call forward) Busy, "Out of reach", "Unconditional" – these functions allow the subscriber to set other numbers on his own, where it will be available, including mobile and international. Thus, subscribers do not need to know each other's location, but always make a call to the internal number. Also in the absence of an employee at the workplace and active forwarding, the client's call will be directed to the number set for communication.
Call park (call parking) — allows you to "park" a call, put the phone down, switch to another device and resume the interrupted call. A very convenient function for subscribers, often forced to move around the office and outside.
Call pickup (call pickup) - when, when another phone rings, in the same interception group, you can intercept an incoming call on your phone. A very convenient function within one office with several employees, when one of them persistently rings the phone, but he is not there. In this case, you can pick up a call to yourself directly from your phone without having to pick up a colleague's handset..
End a call without going off-hook (call completion) - allows by pressing a dedicated button in tone mode (usually *) interrupt the ongoing call and dial a new number. This function is very convenient when dialing an extension number from the menu., since this does not require re-dialing the organization's number.
Determining the number (Caller ID) and displaying the number on the user's subscriber device. This function allows you to inform the subscriber that, who calls him by displaying on the phone display, and also allows you to save a record in the call history, display the name and number of the caller in voicemail, set up a special call type, etc.. Without the callerid function, all subscribers are "anonymous".
Call information recording (Call Detail Records, CDR) - saving records of calls made in a text file for further analysis, tariffication.
Support for advanced PBX functionality
Conference call (teleconferencing) - simultaneous participation in a telephone conversation of several people. It is possible to dynamically create conference rooms, invite other participants to the rooms, password protect conferences.
Voice mail (Voicemail) and indication of new messages (Message Waiting Indication, MWI) - automatic telephone exchange function, allowing you to record a voice message in case, if the called subscriber is not available or busy, with forwarding (if necessary) recorded email message. Asterisk offers a well thought out voicemail system, which can compete with many commercial solutions and is already used by operators to organize voice mail service for their customers. Users will receive voice messages on time in case of absence from the workplace, as message records will be forwarded to them by email. The MWI function will allow you to display on the phone the number of new messages as they arrive. Storing mail on a corporate IMAP mail server allows you to implement the idea of ​​universal messaging in your company. Employees will be able to conveniently view and sort messages received by them directly in the mail client. Any ODBC database can be used to store messages., which provides absolute reliability of storing user messages.
Interactive Voice Response (IVR) - allows you to create a "menu" of the organization with the pronunciation of voice phrases and detection of clicks in tone mode. A very important function, which allows you to use one multichannel number with extension dialing of an employee's extension number. Also, using the menu significantly relieves the burden on the secretary., as the caller receives information for an independent decision on call routing.
Call queuing and distribution to operators (Call center)- Call queues allow you to organize a well thought-out call distribution strategy in the customer care service. Asterisk supports various strategies ( algorithms ) distribution of incoming calls between queue agents. The arrival of calls to the queue and their processing is recorded in detail, therefore, it is not difficult to process this data and analyze the efficiency of work as a call center as a whole, and specific operators.
Presence (presense) - allows to display the subscriber status on the proprietary telephone and software (available, busy, is calling, do not disturb, etc.). For traditional PBX systems, presence indication capabilities are very limited., and usually boil down to the indication of the busy line of the subscriber. When using Asterisk, the subscriber status can be seen in ICQ, Jabber or any other software.
Call recording (call recording) - allows selectively or end-to-end recording of conversations, as initiated by the administrator (automatically), and at the request of the user, ie. selectively (one touch recording).
Listening to conversations (call spy) - authorized connection of an authorized person to an existing conversation.
Intruding into conversation (call intrusion)- authorized connection to the conversation with the ability to speak from either side (with one or both).
Reduced set (speed dial) — the ability to assign a number (usually, long, short equivalent of one to two digits). This feature allows you to significantly facilitate the dialing of international numbers and increase the speed of dialing.
Redial the last dialed number (redial) - allows you to quickly dial the last dialed number, without entering it in its entirety (not knowing him). Many phones have this feature., but the implementation of such a possibility on the PBX will allow you to use this function from old phones.
Calling the last received call (recall) - when determining the caller's number, allows you to call him back without dialing the number itself. Commonly used, when an unknown subscriber called, and he needs to call back, or the person did not have time to accept the call and calls back.
Call without dialing a number (for emergency services) (hotline) - connects the subscriber immediately after picking up the phone, without dialing any number.
Selective restriction of outgoing / incoming calls (blacklist) - allows you to add some numbers to the "black list" and not switch calls from and to them.
Restricting all incoming / outgoing calls (whitelist) – allows you to bar all incoming or outgoing calls with the exception of the list of unauthorized numbers.
Remote access with callback (callback)
– allows you to call a dedicated callback number of the company, in which, instead of a connection, the connection is immediately broken. After that, the PBX itself initiates a call to the specified number, asks for a PIN code (if the number is not in the database), and then simulates the usual call acceptance algorithm. Thus, company employees do not need to spend personal funds to solve company problems.
Various call processing algorithms depending on the date and time and time access restrictions- allows you to create different voice menus for workdays and weekends, and technically allows any PBX function to depend on time / date.
Support for traditional communication channels
Asterisk supports analog lines (FXS, FXO). For integration with other automatic telephone exchanges, there is support for digital communication protocols ISDN PRI and SS7.
Support for modern communication channels
Modern telecommunications are based on the Internet protocol (IP) and technologies of voice transmission over the Internet network - Voice over IP. Interaction with other IP PBXs is carried out via VoIP protocols (peering), as well as to reduce communication costs and conduct secure negotiations and teleconferences.
Control phones from the computer
Users and administrators can manage phones connected to the system through the built-in WEB interface.
Remote connection of users and offices
Allows to organize user mobility. Staff, who are often on business trips, have the ability to connect remotely, which provides both a dramatic reduction in communication costs, and a new communication opportunity despite the absence of an employee in the office.
Termination of voice traffic
To reduce the cost of DLD / ILD communication, such calls are directed to IP telephony providers.
Connection of geographic numbers
With the help of technologies, it is possible to connect multichannel numbers from different countries. This will significantly simplify and facilitate communication with the company and its employees in all respects.. A list of any number of numbers is posted on the company's website in the Contacts section. (Moscow, Paris, London, Kiev, Chisinau, Washington and many many others), and those who want to call the institute will choose the most convenient number for him. Also, it will be easier and cheaper for company employees on business trips to contact the center..
Quality of service support (QoS)
Asterisk supports QoS flags for voice traffic, that, when performing the necessary configuration of active network equipment, it allows to increase the priority of voice traffic.
Unlimited growth of the subscriber base
The use of channels allows you to solve the problem of growing the user base once and for all, since the maximum number of subscribers and simultaneous calls depends only on the capacity of the server and communication channels, there is no concept of "port" in IP telephony.
Billing
The telephony system must have a full AAA system (Authentication, Authorization, Accounting). It is necessary to very flexibly manage the possibilities of subscriber connections (safety), permitted directions (tariff plans), calculating the cost (termination). Each user must have their own individual account, which reflects all his calls, balance, tariff plans, connection addresses, etc.. Such opportunities are available when integrated with an external billing system..
Prepaid cards
It is possible to provide convenient and cheap communication for personal purposes of employees with subscribers from other countries at the expense of the employees themselves. To do this, you need to create an authorization method using a PIN code from a card with a prepaid face value..
Numbered plans
For maximum flexibility, Asterisk IP PBX supports an unlimited number of isolated numbering plans, allowing employees of different offices to have the same extension numbers.
Monitoring
SNMP support for statistics collection
IP PBX Asterisk supports SNMP protocol, which allows you to monitor the number of connections, system load and network interfaces, availability of feasts, notify and respond to problems.
Operator panel
Using the "Operator Panel" to visualize user connections and calls made, interception, conference management, listening to conversations, the number of people waiting in line, connected operators, parked calls.
Safety
Using passwords to restrict access and authorization
Almost any PBX function can be supplied "under the password" in the form of a PIN code, For example, international and long distance calls, exit to another office, participation in the conference, class "backup line", etc. When calling from the city, the subscriber can select the option in the menu, allowing him to log in using the PIN code and virtually move to the context of his office phone, ie. take action "on behalf of" your phone, such as checking voicemail, internal and external calls, management of call forwarding modes, etc.. and so on.
Networking capabilities
Firewall, router and VPN server
Since Asterisk runs on Linux and FreeBSD, proven to be reliable and high-performance network operating systems, this allows you to combine PBX and network router functions with NAT functions, Internet access or remote access servers with PAP / CHAP authorization support, create a virtual private network based on Asterisk Pbx using IPSec protocols, LT2P, OpenVPN.